Happy Thursday y'all!!
Today I'm linking up with
Holly
and
Jake
for their Finish the Sentence linkup.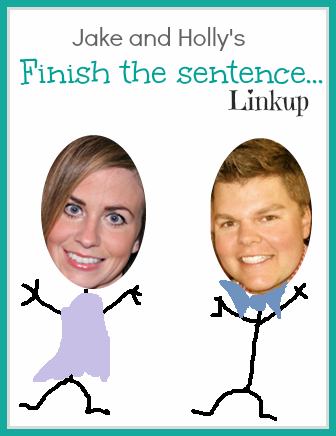 If I had one extra hour in the day
...I would sleep. Can you say "spread too thin"?
I wish my name
...was shorter and easier to spell/pronounce. People are always misspelling my first name and mispronouncing my last name.
I think anything chevron is...
cute, but not necessarily my style.
My last nightmare...
was about oversleeping for a half marathon and missing the start. This is apparently my worst fear!

Sometimes...you want to go, where everybody knows your name. And they're always glad you came......

My last meal on earth would be...chicken nachos from Barnacle Bills Marina or cheese fries from Eskimo Joes!

I would much rather be hit in the head with a hammer than go to the dentist. I have an irrational case of dental anxiety/fear.

Mayonnaise...is disgusting. I don't like the taste and the texture freaks me out. Plus, it reminds me of body fluids!
10 years ago, I didn't think...
I would be a runner. I wouldn't have run unless a bear were chasing me!!

Selfishly...I control the thermostat in my office. Well, I try to as much as I can. I am ALWAYS cold and for some reason, they think it needs to be cold enough to hang meat in there! I sneak over and turn it up as often as I can! My company should be happy that I'm saving them money on the electric bill!

My favorite show on TV right now...is DEXTER on Showtime. I mean, who doesn't love a serial killer that kills bad guys, right?!

And, George Zimmerman...should have known better
That's all I've got for now!
Until the next time.......