Good morning folks!! WOOHOO, it's finally Friday!!
Yesterday was a very long day and I was super busy, hence the missing post from me. Sawwy!
Today's post is going to be short and sweet. Today I'm linking up with
Darci
for her
5 on Friday linkup. Feel free to grab her button and join us if you want to!!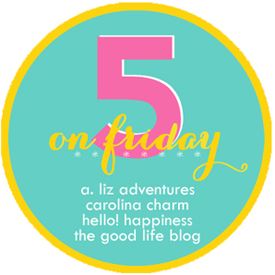 1: My strength training workout on Wednesday was WAY hard, but I loved it!! I did abs, shoulders/biceps/triceps after a 4 mile progression run with my Pathways group. I'm still sore but really looking forward to incorporating more weight lifting into my workout routine. I just need MORE TIME!!
2: I've encountered some of the worst customer service in the past couple of days and have come to the conclusion that I have no patience or tolerance for it! People need to do what they say they're going to do when they say they're going to do it. No excuses! Just DO IT!!
3: And, while I'm on a rant, I just want to make it abundantly clear that I really, really despise my drive to work and the parking garage at my work! Both are frustrating beyond all belief and DANGEROUS!!
4: It's September already?! This year is flying by!! I'm not entirely sure I'm ready for fall yet, but I did buy pumpkin spice creamer at the store yesterday ;)
5: I am leaving work early today for what I hope is my last dental appointment for a while! I'm glad to get this process completed, but I would prefer to leave early for something fun, like shopping!!
Although this was a short work week, it seems that it has been a dreadfully LONG week!! I'm tired beyond belief!! I'm scheduled to do a 5.5 mile training run with my Pathways group tomorrow morning, then I'm relaxing!! I'm gonna do a little boat floating since it is still technically summer and its going to be HOT here this weekend. I'm planning to do a little football "tailgating" out on the boat. That should be fun!!
Ok, that's all I got. Have a fabulous Friday/weekend!! Be safe and have fun!!